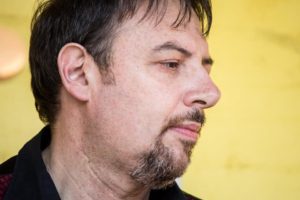 Giordano "Gio" Girotto (keyboards, weird and wonderful effects, backing vocals, arranger, composer)
Gio moved to England from Italy in 2013. He studied organ and organ composition at the Conservatory of Ferrara with Maestro Francesco Tasini and Maestro Vincenzo Ninci, and also studied Jazz Piano with Maestro Massimo Mantovani at the School of Modern Music in Ferrara. He taught piano at the school G.A.M. Stanghella from 1998 to 2004 and was an organist at some of the most important churches in Rovigo. Giordano likes to call himself a "musician between the sacred and secular".
Gio has a particular passion for the 1970s progressive rock era and the music of Keith Emerson (Nice, ELP), fusing the great Bach with rock, blues and jazz. From 2008 to 2012 he was the keyboard player and arranger for Cockerilla, an Italian Joe Cocker tribute band, and more recently played with Leeds Indie band The Yum. Gio's influences are Emerson Lake and Palmer, The Nice, Pink Floyd, The Beatles, Joe Cocker, Sting, Genesis, Oscar Peterson, Guy Chambers, Patrick Leonard and Johann Sebastian Bach. Gio loves: collecting keyboards (you can never have too many), eating his dad's home-made salami and vacuuming.