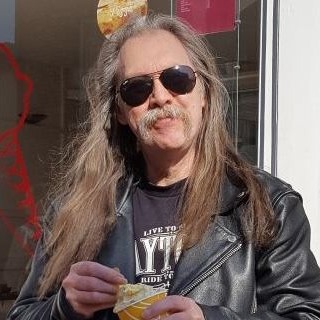 John "Doc" Elliott (bass guitar, guitar, funky hat, composer)
In his early years, Doc was mainly raised on a diet of jazz (swing and west coast) music, as his father played saxophone (alto and baritone) and clarinet with the Toni Anton Orchestra in London during the 50s and 60s. Doc's personal musical journey began when he picked up the saxophone, but this was soon to be replaced by his true love, the bass guitar. He has played with various bands and one or two famous names over the years, covering a variety of genres: classic and progressive rock, jazz, blues and Americana. He also plays acoustic and electric guitar, and occasionally the banjo and mandolin.
Doc also composes his own material, which reflects his wide-ranging musical influences, including Genesis, ELP, Led Zeppelin, Steely Dan, King Crimson, Jeff Beck, Pink Floyd, Frank Zappa, Jethro Tull, CSNY and Gentle Giant.
Outside of music, Doc has spent much of his working life as a University academic, where he has mainly taught and researched in the area of Artificial Intelligence. He is currently an Hon Research Fellow in Computer Science at the University of St Andrews and at the University of Manchester, in Astronomy, Astrophysics and Cosmology, where he continues to contribute towards research for SETI (Search for Extra Terrestrial Intelligence): see https://seti.wp.st-andrews.ac.uk/ He has been a leading contributor in the field of Computational modelling of language universals for signal discovery, classification and understanding (Xenolinguistics), since the late 1990s. This has taken him around the world, giving presentations (as well as many Journal publications): from USA, Japan and Europe to our own Royal Society in London. He currently coordinates the UK's SETI Research Network: a network of academics that includes all the major (Russell Group) universities.
If ET calls, Doc will be listening.
He also loves: wearing top hats, drinking bizarre alcoholic beverages, riding his Harley, eating ice cream and using the word "extrapolate".